Querido Familia y Amigos, April 13, 2015
The greatest thing about fall is crunchy leaves! And yellow trees! And clear skies. And it´s not so dying hot. Although that also makes it a bit colder than comfortable in the night time. Which means you either have to carry a sweater around with you all day long, or just tough it out for a couple hours and hope that you have some appointments for the nighttime.
News number one: I have a new companion—again! Hna T- was my companion for a week, and went back to Las Heras on Wednesday. My new comp is Hna P-. They had to have another flash since they had to close an area with hermanas (Atalaya—donde you nací!) because of problems with the neighbors, and they had nowhere to go. So since Hna T- already knows Las Heras, presidente sent her back there to dirigir el area. My new comp is from Provo, Utah. She is half Mexican, but you can´t tell. But she is going to make me tacos. And she is super adorable and a great teacher. I am still madrastra (step-mom) since she is also ending her training with me. So she is getting the hang of the language. Es una capa!
During General Conference I got an impression to go visit a Menos Activa, S-, so we went this week. This first time we went I was with Hna H-, and she wasn´t that receptive since she was attending another church. I don´t know what the difference was this time, but we asked her if she would like to come to church with us on Sunday, and she said she would come! But she said that she didn´t want anyone to talk to her or greet her; she only wanted to go and think about God and pray. Which we said was ok. And so she came on Sunday! And the really great thing is that she saludó la gente on her own, and started talking to the some of the members too! She was one of the pioneers of the branch, she got baptized five or six years ago, so she knew a couple of the people that were still there. And she felt super great. She even gave her contact info to the Relief Society President and said that she will come the RS activity on Wednesday! And asked us to bring her a new triple since her son (who is also a member) took hers when he moved out. I am super excited about her!
We also had two other investigators in church on Sunday, L- and A-. L- set his own baptism date for 17 Mayo. He is progressing well, and is excited to get baptized! And he asked me to be at his baptism, so we are praying that Presidente won't get any revelation that I need to change areas. Also because I LOVE Lobos! It is my favorite area ever, and we are seeing tons of progress and miracles here! And also because pobre Hna P- has no idea where we are still, and has a bunch of meetings in Ramos this week, so she won´t be in Lobos very much to learn the area. But, we will do what the Lord wants! A- is the Dad and husband of a couple conversos recien. He said that he will get baptized, but he doesn´t want to set a date. He has problems seeing, and so hasn´t been reading the Book of Mormon very much. But I know that that is going to be the key to him feeling the Spirit and feeling comfortable to get baptized. The Book of Mormon is the word of God, and it really does change hearts and work miracles!!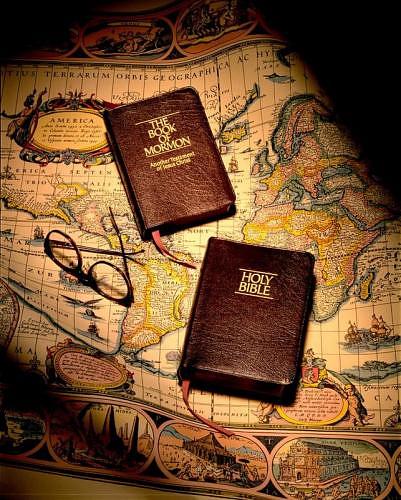 WEEKLY CHALLENGE: Write your testimony in a Book of Mormon. Pray for an opportunity on a specific day to give the book to a friend, acquaintance, or someone you meet. Pray for the courage to give it to them and explain it. Invite them to come to church with you on Sunday to see what it´s all about! And theeeen write me about your experience and your successes!
You are all amazing! Thanks for all of the support and prayers, and for sharing with me the interesting things in your life and all of your missionary experiences! Keep up the great work!
P.S. English is SUPER weird and hard to write in. I had to ask my comp how to say acquaintances because

I could not remember como se dice conocidos en ingles.