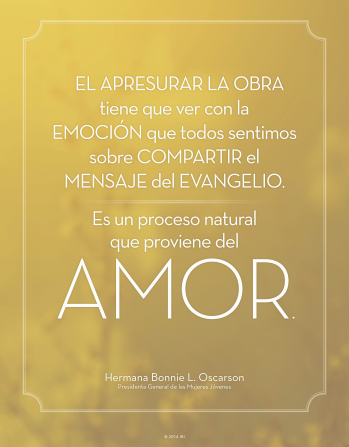 (" Hastening the work has to do with the excitement we all feel about sharing the gospel message . This is a natural process that comes from love . "

- Sister Bonnie L. Oscarson)
Querido Familia y Amigos! Nov. 23, 2015
Been thinking a lot this week about DyC 50:22, about rejoicing in the work, and it`s starting to work! Our Presidente taught us this week in the Concilio de Lìderes that we need to get rid of all of our fancy teaching analogies since they are more crutches and distractions than aids. So we are working on getting rid of them completely, and on teaching only pure doctrine. It is helping to teach much more straight forward and with power. Also we are doing better at teaching a principle first before asking them what they think about something (Like What is a prophet? etc.)
Yesterday was super awesome. We had set a goal to have 10 investigators in the Sacrament Meeting, and so we worked really hard to get there and invited everyone and tried to call and visit everyone we could to help them come. We had five investigators at church! And we would have had more if it hadn`t been elections. Three families came: D-(a Less ACtive) with his girlfriend M- and his brother Jo-. We didn`t have any contact with them last week since they canceled our cita, but we called and invited them to church anyway, and they came during the second hour. A-, her daughter Mi- (9), and her son JP- (7). We did divisiones and I went to look for them at 10:00 while Hermana A- taught the Principios class. S- --we have taught her a couple times; the last time was with a member, and she showed a lot more verdadera intenciòn and understanding. She said she would come at 10:30, and was waiting outside the gate when I got there with A- and the kids. They all said they liked the church and felt good. The members accepted them well, and we got them to sit with them too. D- participated really well in the class. We have citas with all of them for this week.
A- was a contact that Hermana A- found on divisiones. She has three kids, and is recently separated. We taught her Lesson 1, she liked it, and the kids understood too! They are all pretty reserved except for JP- who is super confident and does and says whatever he thinks. He is super adorable, and probably my favoritest kid here.
J- was supposed to come to church yesterday, and we don`t know why he didn`t, since he usually keeps his compromisos. We had a lesson with him on Friday after a week of not seeing him (since he went to Chile on a business trip). He said that he read and studied all of the scriptures that we marked for him to study every day! And that he had continued talking with a member family in the ward that we had our previous lesson with, and had lots of questions about the Palabra de Sabidurìa. So we talked about that a little bit but didn`t have very much time and told him that we were going to talk to him the next time more about that.
E- is having a hard time getting her respuesta. But she has been asking about Joseph Smith in her prayers. She says that she doesn`t feel very comfortable in the church=we need to get her more hermanamiento! We went with a member on Saturday, who shared about her conversion, who was also from the same religion before. That was good, since E- feels like she is changing Equipos de Fùtbol by changing her religion, even though she doesn`t go to her church or anything. She also heard something about tithing in the church, and doesn`t know what it means for us, so she has doubts about that too. We are going to teach her about that next time.
We have some super capos investigadores: G- y P-. P- is like 24ish, and is the son of G-. He told us that he was atheist when we started teaching him, but poco a poco has started to change! G- is looking for a true faith. It`s harder for her to change since she is older and has been a member of a different church her whole life, and also because she takes medicine to sleep, and so it is hard for her to fit reading into her day. Last time we went with a member and read Alma 32 together, since she hadn`t read. It was perfect, since it talked about how to grow your faith. P- is super inteligente, and he explained it and then G- understood too. Also at the end of the chapter it takes about satisfying your hunger and thirst, and the member testified about how it feels the holes in our life. And Pablo said that that is his need--that he has a gap and can`t fill it with school, buying things, playing fùtbol, etc. We testified that this is what he is looking for, and that only the gospel can fill that hole. That was so cool. We know now when we have the spirit with us, because we really leave rejoicing!
O- is the friend of G- --we found them on the same day at G-´s house. This week we went to visit him at his house with a member, and taught him about the Plan of Salvation. He somehow found a Book of Mormon at a bookstore a couple years ago, and has started to read it!
Se-, our Converso is doing well. We made a reading calendar with him to do the Area Presidency`s challenge, and he is keeping up with his goal, reading 2 chapters every day! We talked about the responsibilities of a Teacher, and are helping him to prepare for the Aaronic Priesthood. We want to get the rest of his family more involved and listening. So far his little brother came to his baptism, and one of his sisters has listened during one lesson. We are trying to have a Family Home Evening with them this week.
Lots of great things happening in the area! Looking for more investigators and trying to do more contacts in the street! Thanks to all who have written me recently--I really appreciate hearing from you and hearing about your spiritual experiences!
Love you all lots!
--Hermana Durfee